CONTACT US
Powder Coating
The Experts in Metal Powder Coating
Here at Potters, we are not just experts when it comes to sheet metal fabrication; we are experts in electrostatic powdercoating too. Working with a wide range of clients in the UK, we are able to tailor our services to meet a variety of requirements.
What is Powder Coating on Sheet Metal Components?
Applied as a free-flowing dry powder, powder coating is a type of finish coating that is suitable for a wide variety of applications. The main difference between powder coating and liquid paint is that sheet metal powdercoating does not require a solvent to keep both the binder and filler parts in a liquid form. As a result, it is much more environmentally friendly, and cheaper too. No wonder so many people are interested in our powder coating services!
Suited to Many Applications
Powder coating is suitable for virtually any metal, and we have worked with many different kinds during our years in the industry. We apply the powder electrostatically – a process that we have worked hard to refine and protect over the years. We then cure it under a high temperature. The result? An incredibly high quality, even and hard-wearing finish.
Fast Powder Coated Metal Turnaround Times
Here at our automated powdercoating facility, we are passionate about delivering our services on time, every time. The great thing about metal powder coating is that it is one of the quickest painting methods available today. Because there are no solvents present in powder, it can go into the oven right away. So we will be able to have your product to you much faster. When time is of the essence, we always deliver. That is why we are a firm favourite with so many clients.
The Benefits of Working With Us
Fully automated powder coating plant giving:
Cost effective products
Fast turn round of volume products
Masking for earthing and RFI requirements
Consistency through auto gun setting
Durable coatings
Unlimited colour choice
Wide range of finishes
Corrosion protection
Environmentally friendly products
Powder Coating Technical Specifications:
Seperate masking preperation stations.
Seperate buffer stations for pre and post loading onto automated plant.
Self contained conveyor facility encompassing:
300ft Continous conveyor
3 Stage Degrease and Iron Phosphate Pretreatment
Dry Off Oven
2 Powder Coating stations
2 Automatic Reciprocators
2 Gema Optiflex gun
Curing Oven
1 Stand alone powder coating booth
1 Gema OptiFlex gun
Stand alone curing oven
Talk to Our Powderplant Team Today
If you want to find out more about LL Potters and our work with powder coated metal, then please do get in touch with us today. We would love to talk to you and find out more about your project. We will answer all of your questions and provide you with the information that you need to proceed with nothing less than 100% confidence.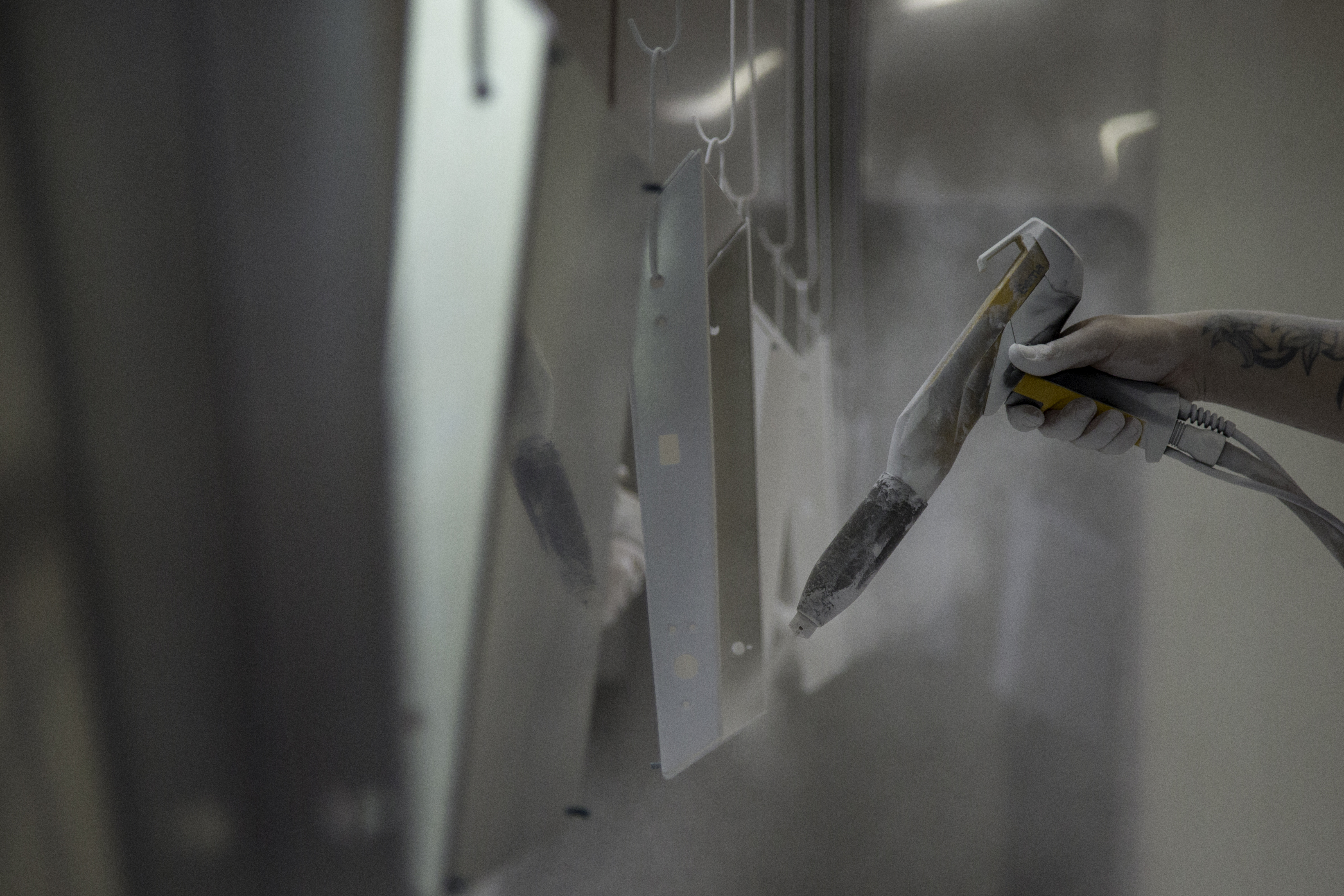 Powder coating vs wet paint?
Largely the answer to this is a personal choice, unless specified by your customer or by regulations associated with the end use of your components. Should the choice be open to you we explore below some comparisons to provide some insight for you to consider.
Firstly, from an environmental standpoint, powder coatings have been developed to be less harmful to the environment than wet paints. In addition, powder coatings are more cost-effective to purchase than wet paints and have a longer shelf life, leading to less likelihood of wastage on parts that are not regularly produced.
The transfer efficiencies of powder coatings are better than wet paint. Due to the electrostatic application of powder coating, the coating is attracted to the surface of the metal leading to less wastage than the traditional directional spraying of wet paint applications. Powdercoating is normally a one-coat process that can be applied without the need for a primer to suitably prepared substrates such as with iron phosphate on steel and zintec or a chromate conversion coating such as surtec or iridite on aluminium.
What different powder coating finishes are available?
The most common effects in use within powder coatings are smooth, texture and leatherette. Each of these can be produced in a range of gloss levels, as indeed can wet paints, although an equivalent to leatherette is not really available in wet paint.
Powder provides much thicker overall coatings as opposed to wet paint, which are usually more durable as a result. A typical powder system for commercial applications may give a film thickness of 80 to 120 microns whereas a wet paint system is somewhere in the region of 25 to 35 microns.
Should the surface need silk screening afterwards then obviously smoother surfaces are easier, avoid silkscreening onto textures such as leatherettes if possible. Silkscreening on these types of surfaces can still be achieved but it's best to not make the print too fine in these cases.